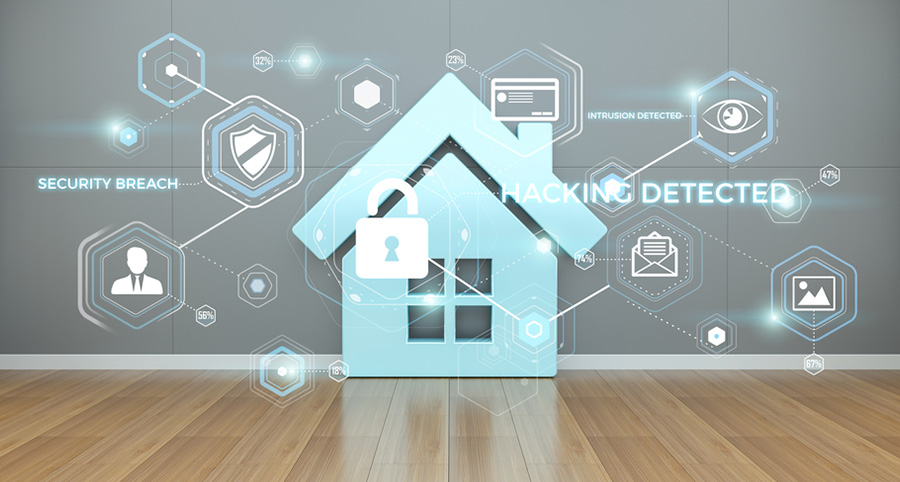 Do You Need To Be Concerned About Smart Home Hacking In Charlottesville?
In various ways, smart tools like surveillance systems and video doorbells have enhanced our security. We have the ability to get alerts when someone walks up to our front steps, and we can have video segments delivered to us when suspicious behavior is happening. Having implements we can interact with over the internet warns us of potential hazards immediately. But there is one main disadvantage. The simple access that keeps us connected is also creating a pathway for virtual intrusions.
Even though you shouldn't lose sleep worrying about smart home hacking in Charlottesville, you should be cognizant of the potential safety issue and take action to circumvent it.
How To Protect Yourself From Smart Home Hacking
Almost anything can be connected to the internet today - your home security devices, lighting, and even your refrigerator. The drawback is that this creates more pathways for hackers to sneak into your network. That doesn't mean you have to avoid wireless home defense systems or other smart components. Rather, abide by these tips and take steps to keep intruders out of your network.
Use hard-to-guess passwords: This is a must for every account, especially your wireless configuration. Use upper and lower casing and an assortment of numbers, letters, and special characters. Don't use birth dates, street names, or anything else hackers could easily guess. A password generator will supply you with something absolutely random and a password manager will help you track your various accounts and passwords.



Avoid default settings: When setting up a new router, chances are it will come with a preset password to get you started. Change it. Hackers will know these default passwords too. Setting up your wireless network and home router properly at the start will go a long way to keeping you secure.



Consider separate networks: Why put your smart range, your security devices, and your home computer on one network? The majority of routers allow you to set up a separate guest network. Take advantage of it and safeguard important data present on your desktop, laptop, and phone.



Install a firewall: Firewalls aren't just for businesses. They might also be integrated with your personal network. Firewalls can watch what's happening on your network and thwart suspect activity. You could opt for a router with an integrated firewall.



Choose the latest encryption options and security protocols: If you own a newer router, you will likely have the chance to incorporate WPA3, the current wireless security protocol. If that's not available, WPA2 with AES encryption will do the job. You need to install home security components that use 128-bit encryption or higher.



Be certain firmware and software is updated: Keep your software and firmware up to date for all components, including your connected video cameras. Many times, these updates will fix known issues and bolster your network's security.
Be Wary of Cheap Smart Home Equipment In Charlottesville
When choosing a trusted company like ADT, you'll discover that any security vulnerabilities in cameras or other components are managed in a prompt and expert manner. Other knock-off products might not act in the same fashion. Buying your smart thermostat, video doorbell, surveillance system, and other items from a single reputable company like ADT is the right move. And deciding to have all of your components connected at once will go a long way to ensuring seamless implementation, security, and performance. It's also good to know that ADT Command, the hub of your security system, utilizes two-way encryption when engaging with with your connected components.
Request Your Own Charlottesville Home Security System
Since you now have a greater understanding on how to keep your wireless network shielded from hackers, it's time to begin designing your own home defense system in Charlottesville. The security professionals at Secure24 Alarm Systems are here to find the right package for your property. Contact us at (434) 214-6134 or complete the form to take your protection to a new level.
Areas Served Around Charlottesville By Secure24 Your Local ADT Authorized Dealer